Excellence in Literature: Reading and Writing Through the Classics
The name says it all. I could stop right there, but I'm too excited to tell you the details. When I saw this come on deck as a review opportunity I did a back flip. OK, maybe not actually (or I would be laid up in bed for days just for trying), but I imagined a back flip! You can imagine my excitement when I was picked to receive and review this product......yup, cue another back flip!
I'm a planner! My son is in 6th grade and this product is designed for 8-12 grade. But, I'm already planning for next year and 8th grade. I'm also already thinking about his high school years. I want to line up a fabulous selection of courses so that he will be well prepared for SAT's, CLEP, ACT, and whatever other acronym endowed test that will come his way.
Excellence in Literature
by Janice Campbell is a 5 Leveled Curriculum that will take you from 8th grade through 12th grade. I was provided with
English I: Introduction to Literature
which is designed for 8th grade. It has an Honors Option which provides additional literature and lessons for a student that is desiring to be prepared for and AP or CLEP test at the end of the year.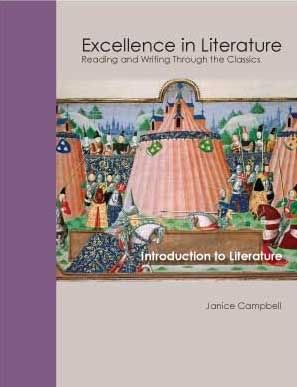 The website describes this curriculum so perfectly:
Introduction to Literature is a college-preparatory literature and composition course. Focus works, including novels, short stories, poems, and drama, have been selected for literary quality, and for their place in the historical development of literature. Context readings provide background information about the author, the historical period, and the literary and artistic context of the focus work.
Students will gain an understanding of the development of literature and will practice the skills of close literary analysis through essays, approach papers, and other evaluative writing.
So, now you know why I did a *ahem* back flip when I read this description at the time I applied to be able to review this curriculum. This was exactly what I imagined for a Literature curriculum as my son moved towards high school. Then, I continued reading on the website and found the Objectives and Course Description....
By the end of the course, students will:
Understand the process of writing, including the use of tools such as a writer's handbook, dictionary, and thesaurus.
Have specific understanding of selected representative texts by major authors of the periods studied.
Have a general understanding of the historical and cultural contexts of the works.
Be able to analyze literary texts and present thoughtfully developed ideas in writing.
Demonstrate competence in essay organization, style, and mechanics.

Unit 1: Short Stories by-
• Sarah Orne Jewett: A White Heron
• Edgar Allen Poe: The Purloined Letter (This one is not scary, if you're concerned about that.)
• Guy de Maupassant: The Diamond Necklace
• O. Henry: The Ransom of Red Chief
• Eudora Welty: A Worn Path
• James Thurber: The Secret Life of Walter Mitty





Unit 2: Around the World in Eighty Days by Jules Verne
Honors: 20,000 Leagues Under the Sea by Jules Verne





Unit 3: A Connecticut Yankee in King Arthur's Court by Mark Twain
Honors: The Prince and the Pauper by Mark Twain





Unit 4: Jane Eyre by Charlotte Brontë
Honors: Shirley or Villette by Charlotte Brontë





Unit 5: Pygmalion by George Bernard Shaw
Honors: Murder in the Cathedral by T.S. Eliot





Unit 6: Treasure Island by Robert Louis Stevenson
Honors: Kidnapped by Robert Louis Stevenson





Unit 7: Animal Farm by George Orwell
Honors: 1984 by George Orwell





Unit 8: The Tempest by William Shakespeare
Honors: A Midsummer Night's Dream by William Shakespeare





Unit 9: Gulliver's Travels by Jonathan Swift
Honors: The Pilgrim's Progress by John Bunyan
Yowza! Stop right there! What a great lineup of classic literature. I'll admit that when I took literature in school it was one of my greatest nightmares. I LOVE to write, but not much of classic literature and poetry made sense to me and the teachers I had were not all that interested in taking the extra time to help me grasp it. So, I'm excited to take this course and the four more that follow along with my son.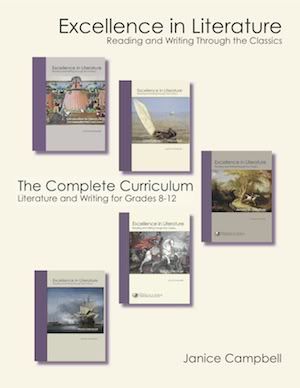 You can click
here
and select any of the levels of Excellence in Literature to see their course objective and description. You'll find that English I and II provide foundational skills; English III and IV offer a chronological survey of American and British literature, and English V focuses on European Literature. You can purchase each level separately for $29.00 + $4.95 Priority Mail shipping, or download an e-book right away for only $27.00
Yes, you read that right.
I thought I read that wrong the first time I saw it because I couldn't believe I could get my son's entire literature curriculum for one year for less than $30. Fabulous! You also have the option to purchase the complete curriculum, I-V, for $139 + shipping or download the e-book version for $135.
I received the e-book version and I was very grateful for it! I know that when I order the additional courses that I will get the print book. I just personally prefer having an actual book in my hand and I don't mind paying the few dollars extra for it. This curriculum is everything I look for....step by step "what to do", comprehensive, challenging, college prep standards, Christian themed, and inexpensive.
As you visit the website to order your own curriculum take the time to check out all the other goodies and nuggets there:
Any products reviewed by me as a member of the TOS Homeschool Crew have been given to me free of charge in order for me to provide you with an honest review of the product and/or how we used the product within our family. I do not receive any other form of compensation for the reviews posted on this blog.