First Form Latin from Memoria Press is a curriculum for grades 5-12. It is a Christian based curriculum founded by Cheryl Lowe in 1994. It is a classical approach to the mastery of the subject being taught. Completion of one year of First Form Latin is equivalent to one year of high school credit. Considering there is Second Form Latin and Third Form Latin, this curriculum option makes for an excellent comprehensive choice for meeting prerequisites in foreign language for college entrance.
I started teaching my son Latin last year when he was in 5th grade. Although we enjoyed the curriculum we were using, we are always open to trying new things. We were excited to find we were selected to review First Form Latin. It was a very different approach than what we were used to. Here is a pic of what we received...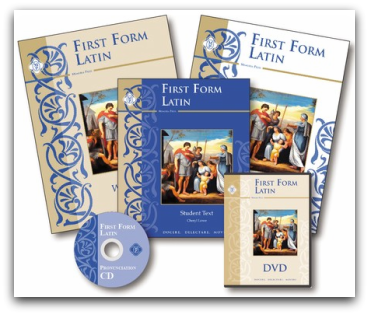 Wow, this was much more than I expected. Opening that box was like Christmas morning! It included:
Student Text
Workbook
2 Teacher Manuals
Quizzes and Tests Book
CD
DVD
Flashcards
This is the complete First Form Latin Set for $115.00 The basic First Form Latin Set is $55.00 which does not include the DVD's or Flashcards. When I first visited the website before receiving the curriculum I thought (hmmm) that's a big difference in price. Are the DVD's and Flashcards really that important? Well, let's look at each item you'll receive in the Set a little closer and then you can decide for yourself.
In the
Student Text
you'll get 34 two-page lessons, broken down into 5 Units of study. Great! Each lesson is only two pages long. I can handle that and so can my 6th grader. Each lesson teaches a conjugation, vocabulary list, and then grammatical application. This soft cover book is smaller than the others (8x8) so it is not intimidating. You can see sample pages for the Student Text by clicking
here
.
In the
Workbook
, the student will find ample opportunities to practice and apply what he has learned in each lesson. Each Lesson has 4-6 worksheet pages. We found that doing one per day was a great way to add Latin to our daily routine. For each lesson, you'll find a worksheet in the following areas: word study and grammar, declensions and conjugations, form drills, translation skills, and enrichment/honors review. You can see sample pages for the Workbook by clicking
here
.
In the
Teachers Manuals
, the teacher (Me) will find....well, everything you need to guide your child through each lesson. I'm a big fan of teacher manuals for subjects that I am not confident in and Latin is definitely one of those subjects. Please, tell me what to do and when to do it! Thank you, First Form Latin. One of the manuals is to accompany the Student Text. It gives sample/suggested lesson plans and schedules. It walks you through each lesson, tells you what to say, examples to give, games to play, etc. *sigh* This is possible now. The other manual is to accompany the workbook and quizzes/test. This precious spiral bound friend of mine provides all of the answers. You can see sample pages for the Teachers Manual by clicking
here
.
In the
Quizzes and Tests
book, you will find frequent opportunities to asses your child's mastery and understanding of the material learned. I like to quiz/test. I realize that some homeschool families run from this concept, but I encourage you to consider it here. Even if a grade is not assigned to the quiz/test, it will help you, the teacher, better evaluate if your child has understood the complexities of this language. Learning a foreign language is like learning math. It requires building blocks of understanding in order to move successfully to the next concept. This book provides a quiz for each lesson, unit reviews and a test for each unit.
On the
CD
, you will find pronunciations for every thing in every lesson. Pop that into your CD player, laptop or desk top and you can practice Latin anywhere. So, unless you already know how to speak Latin, this is a super valuable item.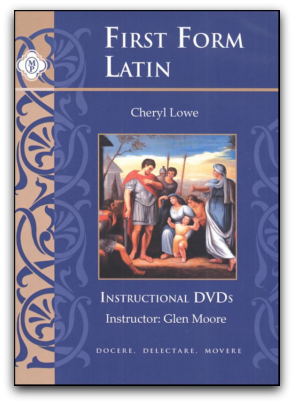 On the
DVD
, you will find your life saver. OK, so here is where the big price difference comes into play between the basic set and the complete set. I say....there is no greater investment if you are going to use First Form Latin. After all, we are talking about a subject that I know nothing about and have no ability to teach. Let Memoria Press teach it for you. Every lesson is featured on the DVD and can be watched over and over again. Watch this sample video lesson and if you feel you can do a better job, then skip the DVD option in your package. If not, then get it....don't think about it....you need it!
On the
Flashcards
you will find all the work done for you. That's the best way to put it. I have my son do flashcards whenever he has vocabulary in any subject. By purchasing the flashcards they are already done for him (vocabulary, conjugations/declensions) and they are neat and concise.
You can get more details about First Form Latin and the breakdown of the prices by clicking
here
. I always love a company that provides a great return policy and Memoria Press is not different. They offer a 60 day guarantee. You can read more about it by clicking
here
. If you are impressed with Memoria Press and are interested in learning more about the other products they offer, just visit their website by clicking
here
.
Any products reviewed by me as a member of the TOS Homeschool Crew have been given to me free of charge in order for me to provide you with an honest review of the product and/or how we used the product within our family. I do not receive any other form of compensation for the reviews posted on this blog.