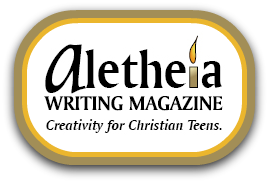 Aletheia Writing Magazine
is a publication for teens, ages 13-19. It comes out quarterly and features literary and artistic works submitted by Christian teens. It's a safe and healthy venue for teens to express themselves and share their many talents. Besides the submissions by the readers, the magazine also offers
a Writer's Challenge, the Featured Contributor, a book review, Glory to God for the Beauty of Nature, Ancient Ink, and an interview or other feature for edification and enjoyment.
The captivating writings and brilliant artwork was a welcome surprise in my issue of Aletheia. Look at this amazing drawing. You'll find this level of quality in every issue you receive. It was refreshing to watch my son (actually only 11) read through this magazine cover to cover and know that his mind was being fed with morally sound literature and poetry and visual imagery. In today's world parents have to be concerned about morally corrupt advertisements and articles in most teen targeted magazines. Not with Aletheia.
Aletheia Writing Magazine would make a great gift for any Christian Teen. Whether an aspiring writer, photographer, artist, or just someone with a love for the literary and artistic arts, Aletheia is a unique gift. Click HERE to see a sample of the Spring 2011 edition. Actually, it's 40 pages long and appears to be the complete issue! Receive 4 issues per year for only $26 in the US or $29 in Canada (this includes shipping and handling). Click HERE to subscribe.
Any products reviewed by me as a member of the TOS Homeschool Crew have been given to me free of charge in order for me to provide you with an honest review of the product and/or how we used the product within our family. I do not receive any other form of compensation for the reviews posted on this blog.