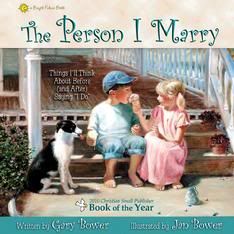 When I was growing up I would dream about getting married and having a family of my own. My parents were divorced and almost all of my friends' parents were divorced. I didn't have a relationship with God and I didn't have any adult in my life to show or teach me about the kind of person I should marry.
I really didn't know what a good husband would look like for me.
As my life changed and I invited God into my life, I began to learn by His example what kind of man I should marry. It was then, as a grown adult in my 20's that I began to dream of my future husband. That was so much different than dreaming of getting married.
As a mother, I pray that my son will begin to dream now of his future wife. He's only 11 years old, but I'm hoping he puts in many years of practice praying for her and figuring out the kind of wife that God has for him.
The Person I Marry
by Gary Bower is the perfect tool to help him do that. This beautifully illustrated book is a tender approach to highlighting the invaluable traits we should all be looking for in our spouse. The story is presented in a rhyme that captivates the listener, both young and older. It is part of their
Bright Futures Series
. Enjoy this video sample...
What a precious gift for your child of any age, as an engagement or wedding gift, or as a tool in a character building curriculum. Discover the traits you want to look for in the person you will marry, and more importantly, discover the traits that God wants for you to have for your spouse. It's no surprise that
The Person I Marry
was awarded the "2010 Book of the Year" by the Christian Small Publisher Association. This 32 page hard cover book is only $11.99 at the
Bower Family Books
website. They also offer free shipping on orders of $30 or more. It will be a treasured addition to your family and a blessing of a gift for someone else you love.
Any products reviewed by me as a member of the TOS Homeschool Crew have been given to me free of charge in order for me to provide you with an honest review of the product and/or how we used the product within our family. I do not receive any other form of compensation for the reviews posted on this blog.